Features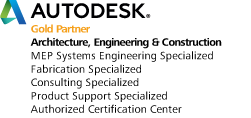 Autodesk® Revit® software works the way architects and designers think, so you can develop higher-quality, more accurate architectural designs. Using tools specifically built to support Building Information Modeling workflows, you can capture and analyze concepts and maintain your vision through design, documentation, and construction.
There are 2 products available for architectural design:
Autodesk Revit 2013, a comprehensive solution containing the functionality of Autodesk® Revit® Architecture 2013, Autodesk® Revit® MEP 2013, and Autodesk® Revit® Structure 2013 software, available in the Autodesk® Building Design Suite Premium and Ultimate editions.
Autodesk Revit Architecture 2013, a standalone application
Request more info Training classes Upcoming events

Learn about Building Information Modeling (BIM)

Contact your MasterGraphics Account Manager at (800) 873.7238 for more information.
Autodesk & Autodesk Revit Architecture are registered trademarks of Autodesk, Inc. MasterGraphics has published these materials and is an independent Authorized Reseller of Autodesk products. All other company and product names are trademarks or otherwise protected by copyright of their respective owners.
//--><!]]>